Services and Typical Fees - Bryan and College Station

| | |
| --- | --- |
| Single Family Home or Condo | $450 |
| Final 1004D Completion | $125 |
| Duplex Appraisal | $550 |
| Form 2055 Limited Appraisal | $375* |
| Relocation/REO Appraisal | Call |


Services and Typical Fees - Brenham, Caldwell, Hearne, Navasota, and rural Bryan and College Station


| | |
| --- | --- |
| Single Family Home or Condo | $550 |
| Final 1004D Completion | $150 |
| Form 2055 Limited Appraisal | $450* |
| Relocation Appraisal | Call |
| Foreclosure/REO Appraisal | Call |
Services and Typical Fees - Rural Brenham, Caldwell, Hearne, Navasota and Remaining Coverage Area

| | |
| --- | --- |
| Single Family Home or Condo | $650+ |
| Final 1004D Completion | $150+ |
| Form 2055 Limited Appraisal | $550+* |
| Relocation Appraisal | Call |
| Foreclosure/REO Appraisal | Call |
* 2055 is a limited appraisal form based upon a street level site visit only. This form can only be completed if enough reliable information is available to complete; otherwise it may need to be upgraded to a full appraisal with client approval.
This is just a sample of the Appraisal services we can provide. Please contact us for further assistance. Fees above are estimates for a typical home. Fee is subject to change for unique properties including more than typical acreage or size.
Below is a list of our primary and secondary coverage cities. Secondary cities is a sample of cities we have a history of completed appraisal orders. At times during the busy season, we may have extended lead times or limited coverage in the secondary city areas.

Discount available for non-lender clients.

The majority of our accepted orders are located in Brazos County but we do cover the outlying and secondary coverage areas as time permits with longer turn times.


SAMPLE COVERAGE CITIES

Primary Cities
City
Zip Code
Bryan
77801, 77802, 77803, 77807, 77808
Caldwell
77836
College Station
77840, 77845
Hearne
77859
Navasota
77868
Secondary Cities
City
Zip Code
Anderson
77830
Bedias
77831
Brenham
77833
Calvert
77837
Franklin
77856
Hilltop Lakes
77871
Independence
77833
Iola
77861
Madisonville
77864
Millican
77866
Normangee
77871
North Zulch
77872
Shiro
77876
Singleton
77831
Snook
77878
Somerville
77879
Washington
77880
COVERAGE AREA MAP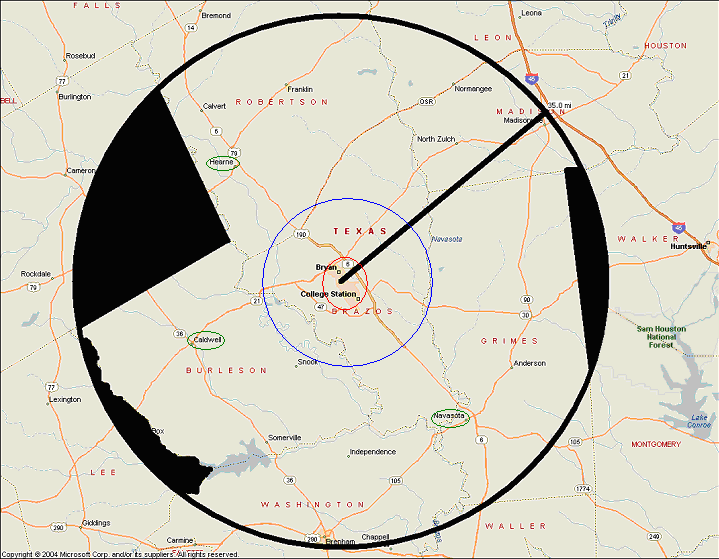 Tier 1 Estimated Pricing
Bryan & College Station
Tier 2 Estimated Pricing
Hearne, Caldwell, & Navasota & rural Bryan & College Station
Tier 3 Estimated Pricing
Rural Hearne, Caldwell, & Navasota & All Other Coverage Areas